From the moment you step into your home, your rugs automatically impact how it looks and feels. Luckily for everyone, there's lots of premium options to choose from!
In the living room, area rugs are a very pivotal element as they're used to either anchor a seating group or delineate a space. No matter what your preferences are, here's a nice little roundup of rugs to consider to suit the construction and style of your home!
Dreamy blue rug: An airy rug with ocean blues and a light neutral color like beige, gray or white will undoubtedly soften your living room.
Pattern on Pattern: You can never go wrong with a Persian rug with notes of red, black, and gold.
Unifying Pattern Rug: By pulling the space together with a small patterned rug in black, gray and white, the areas feel more harmonious.
Ivory Area Rug: Any home with a pristine beige palette will look stunning with a neutral rug.
Geometric Grey Rug:  Let your jewel tones seamlessly juxtapose against a quiet gray rug for the perfect contrast.
Silk Rug: These handmade home-essentials offer a high pile height and the right amount of texture.
Tibetan Rug: These ancient, traditional crafts feature unique variations set within geometric latticework patterns.
Moroccan Rugs: These beauties preserve centuries-old traditions and often come in fine grade natural spring wool, native dyes and herbal washes.
Fur Rug: This lush addition to your living room will contribute to the overflowing texture of your entire space.
Sweater Rug: These artisan-crafted rugs are characterized by tonal variations that may be affected by the lighting and angles.
A Tribal Rug: As pictured in this minimalist Tribeca family loft, a generous handwoven rug gives the expansive space a cohesive unity.
Navy Patchwork: A rug with exposed stitching will make your living room feel textural and homey.
Tan Rug: A geometric brown rug will immediately echo the bohemian spirit of some complementary patterned pillows.
Mid-century Rug: Make a bold geometric statement with a plush, high-pile rug that'll fit right into a modern home.
Matisse Rug: These irregular shaped rugs have a sculptural quality with pile height variations and hand carvings, perfectly replicating the effect of color mixing.
Zebra Skin: Add an unexpected jolt of color to anchor the entire composition of your living room.
A tropical-inspired rug: The vibrant colors and big pattern would strike the right tone on the floor.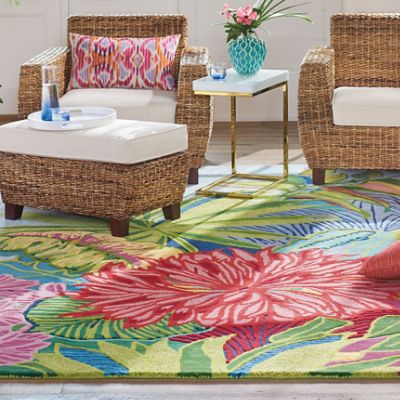 A contemporary rug: Give living room some subtle variations by opting for a timeless style with a modern vibe.
Photo Source: Tumblr, Pinterest, ElleDecor, WestElm, OverStock,